Scottish Artists
April 16, 2018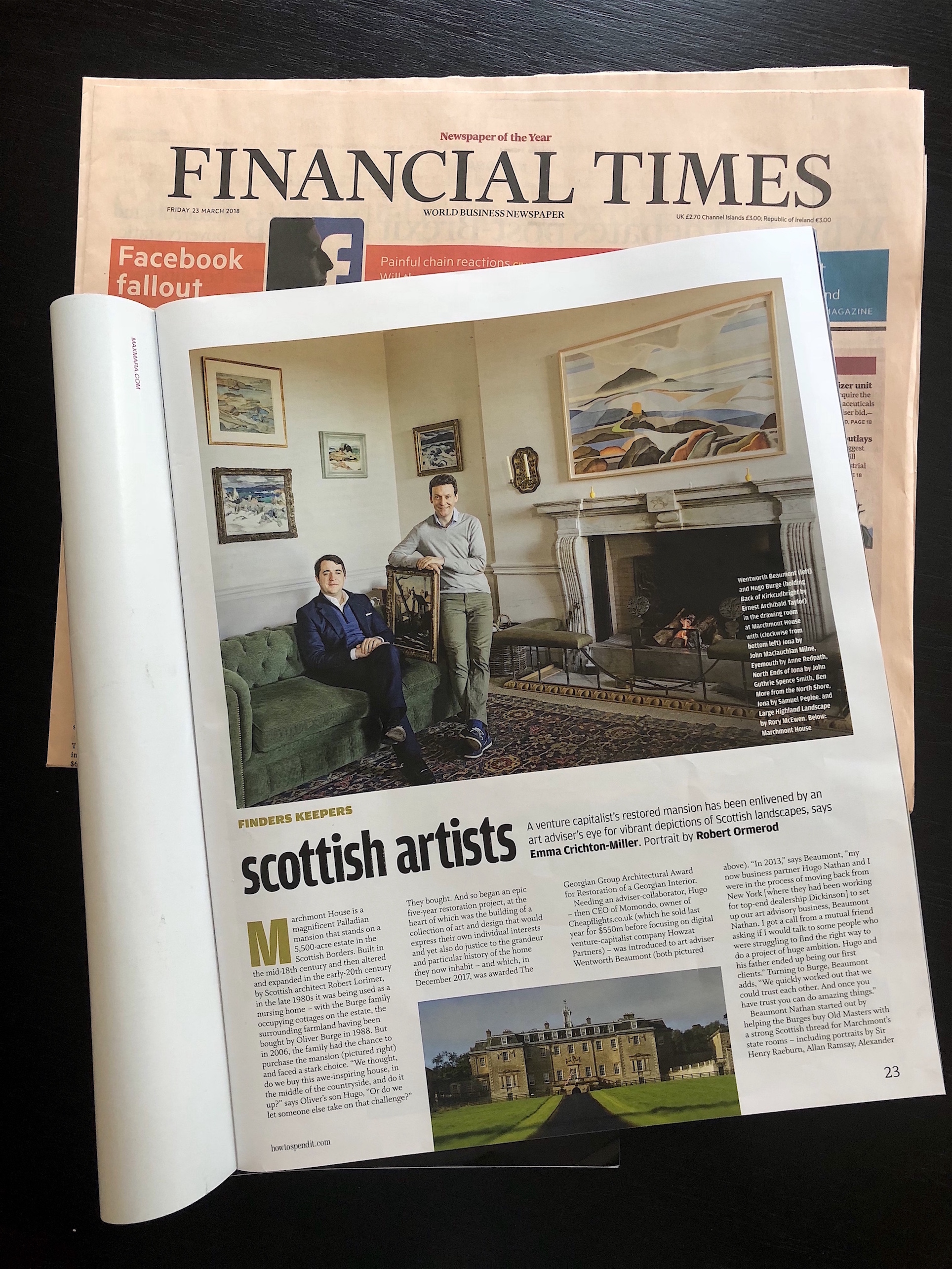 Marchmont House is a magnificent Palladian mansion that stands on a 5,500-acre estate in the Scottish Borders.  Built in the mid-18th century and then altered and expanded in the early-20th Century by Scottish architect Robert Lorimer, in the late 1980s it was being used as a nursing home — with the Burge family occupying cottages on the estate, the surrounding farmland having been bought by Oliver Burge in 1988.  But in 2006, the family had the chance to purchase the mansion (pictured right) [sic] and faced a stark choice.  'We thought, do we buy this awe-inspiring house, in the middle of the countryside, and do it up?' says Oliver's son Hugo, 'Or do we let someone else take on that challenge?'
They bought. And so began an epic five-year restoration project, at the heart of which was the building of a collection of art and design that would express their own individual interests and yet also do justice to the grandeur and particular history of the home they now inhabit — and which, in December 2017, was awarded The Georgian Group Architectural Aware for Restoration of a Georgian Interior.  Needing an adviser-collaborator, Hugo–then CEO of Momondo, owner of cheapflights.co.uk (which he sold last year for $550m before focusing on digital venture-capitalist company Howzat Partners)–was introduced to art adviser Wentworth Beaumont (both pictures above)[sic].  'In 2013,' says Beaumont, 'my now business partner Hugo Nathan and I were in the process of moving back from New York [where they had been working for top-end dealership Dickinson] to set up our art advisory business, Beaumont Nathan.  I got a call from a mutual friends asking if I would talk to some people who were struggling to find the right way to do a project of huge ambition.  Hugo and his father ended up being our first clients.'  Turning to Burge, Beaumont adds, 'We quickly worked out that we could trust each other.  And once you have trust you can do amazing things.'
Beaumont Nathan started out by helping the Burges buy Old Masters with a strong Scottish thread for Marchmont's state rooms–including portraits by Sir Henry Raeburn, Allan Ramsay, Alexander Nasmyth and 17th Century painter John Scougal.  Then Burge fell in love with a Lynn Chadwick sculpture, inspiring a strand of modern British sculpture through the house, including work by Dundee-born William Turnbull.  But perhaps most personal of all to Burge has been the collection of works by Scottish colourists. This group of painters from the first half of the century, now highly sought after at auction, comprises Samuel Peploe, Francis Cadell, John Duncan Fergusson and Leslie Hunter.  They brought to Scottish painting the radical perspective and vibrant colour learnt from the French impressionists and fauvists such as Monet, Cezanne and Matisse.
Burge explains: 'I had a midlife birthday treat, when my father and I went sailing in the Inner Hebrides.  It was paradise.  Walking there you feel like you have stepped into a dream. I discovered talking to Beaumont Nathan that there is a very strong theme of the major colourists falling in love with the islands and painting them.' The first painting he bought was by Peploe–of Iona. One sold at Sotheby's London for £68,750 in 2016; Peploe's record is £937,250 in 2011 for 1905's 'Still Life with Coffee Pot.'  'Once you get down onto those beaches it's a very distinctive geography, colour and light; the colourists have done a magical job of translating that.  To me these landscapes are extraordinarily undervalued in comparison with the colourists' better-known still lives, which I find attractive but not as moving.'
Beaumont says, 'Once we understood Hugo's interest, our task was to find absolutely the best that we could on the market — the landscapes are relatively rare.' (Cadell's landscapes of Iona achieve up to £100,000 at auction; Hunter's Scottish landscapes tend to fetch less.)
Burge then discovered the lesser-known landscape artist Ernest Archibald Taylor, who spent time at the seaside resort of Kirkcudbright, painting alongside Peploe, and whose simpler, boldly executed landscapes (example pictured below centre, prices go up to £6,000). complement the Hebridean paintings.
Beaumont recalls that Burge then asked him to find some of the exquisite botanical paintings by the poet, singer and artist Rory McEwen, who grew up in Marchmont House in the 1950s. 'We managed to dig up one or two at auction.' Burge adds, 'They are mesmerising–mindbogglingly beautiful.' (Priced often exceed £15,000.) The end result, says Burge, is that 'my sitting room is half trees and half Scottish colourists' paintings of the Hebrides, and they meet in the middle with colourists' paintings of trees.'
Beaumont then pulled of perhaps their most exciting purchase so far. 'They presented me with the chance to buy a wooden sculpture by Fergusson, 'Plentitude d'Olivier,' says Burge. (Fergusson sculptures have gone for up to £100,000 at auction.) 'I'm not sure I would have considered it on my own, but when I saw it I recognised that it was very special.' Currently on loan to the 'New Era' exhibition at the Scottish National Gallery of Modern Art, 'it was interesting because it was so left field, but it fits incredibly well with the collection.'
Burge says that Beaumont Nathan's advice as the collection has grown has been invaluable. 'For a novice entering the art market it is very confusing. Often there is a lot of opacity around pricing or the background to a picture, or around explaining why you should buy something. My father and I have always bought pictures that we love, but to have somebody who is able to give trusted advice on something, and help weigh up the pros and cons, has been incredibly helpful.' There are still many connections to the house and to landscape that he is eager to pursue: 'I am an enthusiast and I love to follow these threads. Every single piece has a story behind it: it is in that sense a very personal collection. We needed to tame a house that was quite cold and institutional; we needed to bring it alive.'