Selling Old Masters Now Requires Learning New Tricks
November 22, 2017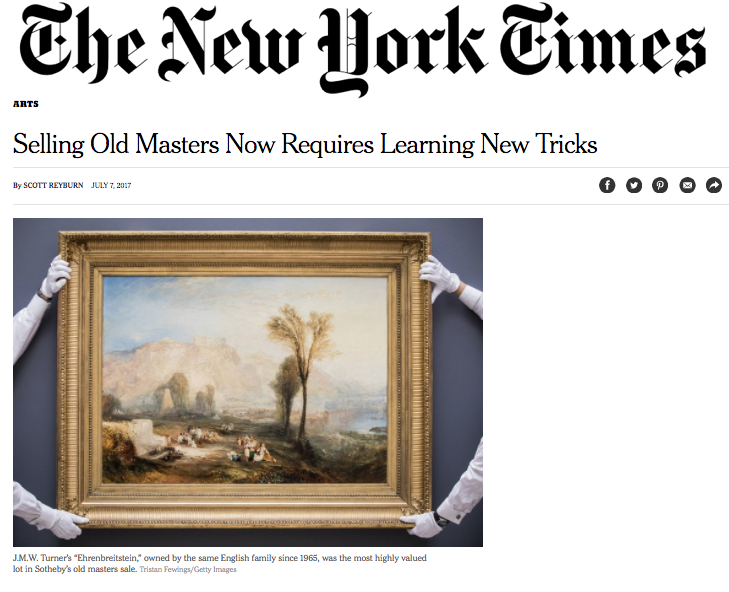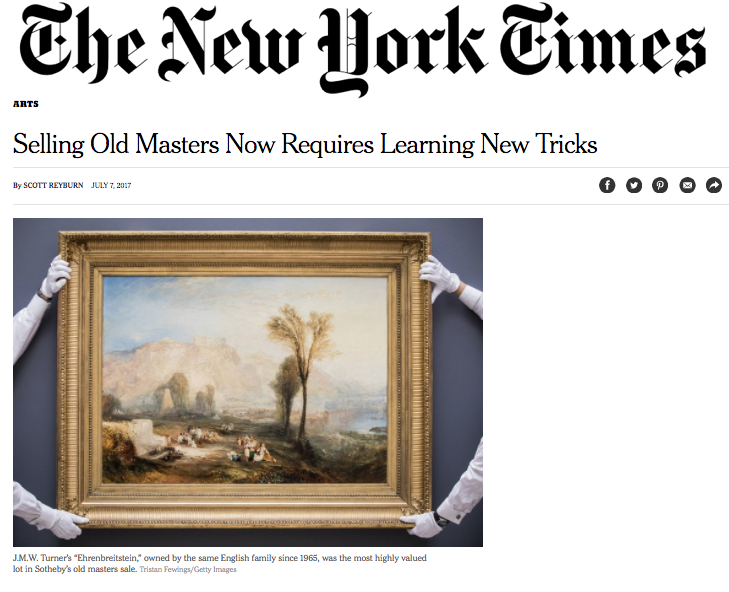 LONDON — Accompanied by quotes from Byron and the sound of sea gulls, an 18th-century painting glides under the Rialto Bridge on a barge down the Grand Canal and is hung on the brocaded wall of a palazzo, returning to Venice for the first time in centuries.
Christie's video to promote the sale on Thursday night of a Francesco Guardi painting valued at 25 million pounds, or more than $32 million, shows the lengths that auction houses are prepared to go to find new buyers for old art. And new sellers.
It sums up one of the biggest challenges facing the art world, at least in the West: How can interest in older art be sustained when so much more attention is focused — and so much more money is spent — on contemporary works?
This week, London's auction houses and dealers devoted themselves to the task of selling old art in an increasingly contemporary-minded market.
The eighth annual Masterpiece fair ran through Wednesday; Sotheby's and Christie's had auctions of old masters; and a wealth of older material was on offer in salesrooms and in the 42 dealerships featured in this year's "London Art Week" promotion.
The Christie's video was filmed during the opening days of the Venice Biennale, as that city hosted hundreds of wealthy contemporary art collectors. This kind of global marketing, along with the low estimate of £25 million, helped persuade the owner of Guardi's 6 feet 8 inches wide canvas "Venice: the Rialto Bridge with the Palazzo dei Camerlenghi" to sell.
The painting was one of a pair of large-scale Guardi views from the 1760s, showing the Rialto Bridge from north and south, that had been divided between the two children of Paul Channon, a British politician who died in 2007. The view from the south was sold at Sotheby's in 2011 for £26.7 million with fees, or about $42.7 million, an auction high for any Venetian view painting. The low estimate had been £15 million.
Perhaps emboldened by the £44.9 million for which it sold a Rubens last July, Christie's was confident it could achieve a similar price for the northern view.
On the night, competition was measured, and two telephone bidders slowly pushed the price up to £26.2 million with fees, just above the low estimate.
"This may appear cheap compared to expectation," said Hugo Nathan, a partner at Beaumont Nathan, an art advisory company based in London. "But it's actually a very big price and a successful result for that painting, which was very important but actually a little gloomy in person."
Outstanding historic artworks can still speak for themselves. At Masterpiece, a high-end fair in the Chelsea neighborhood of London, the New York ceramics dealer Michele Beiny sold a circa 1731 Meissen porcelain parakeet made for Augustus the Strong of Saxony, a celebrated patron. Priced at £200,000, it was bought by an English collector.
Ms. Beiny included the New York collector David Rockefeller, who had a penchant for 18th-century Chelsea porcelain, among her clients. He died in March, at age 101. More than 2,000 pieces, including porcelain, from the collection of Mr. Rockefeller and his wife, Peggy, are to be auctioned next year for charity at Christie's.
Glimpses of their former family home on the Upper East Side, with its 18th-century English furniture, suggest a very different event from Christie's 2009 sale in Paris of the more on-trend collection of Yves Saint Laurent and Pierre Bergé, which raised $443 million.
Though she acknowledged that Mr. Rockefeller owned some exceptional Impressionist and modern paintings, Ms. Beiny said "the collection isn't like Yves Saint Laurent's. It wasn't put together with a decorator's eye."
In 1957, when Mr. Rockefeller was in his early 40s, a Chelsea rabbit-shaped tureen sold at auction for about $11,900, roughly $104,000 today, more than was then being paid for Cubist paintings by Picasso. The current salesroom high for Chelsea porcelain dates from 2003 — £223,650, about $373,000 at the time, which nowadays doesn't buy much Cubism.
Today's financially minded collectors are drawn to rising markets, and older art hasn't proved as lucrative as modern and contemporary works have in recent years.
But an old painting that's fresh to auction and has a compelling subject can achieve impressive results. Two-thirds of the 68 lots in Sotheby's Wednesday night sale of old masters had not been seen on the market for at least 50 years. These included an early 16th-century oil-on-panel portrait of Elisabet, the court fool of Anne of Hungary, wife of Ferdinand I, Archduke of Austria, by the Flemish artist Jan Sanders van Hemessen. Last seen at auction in 1814, this sold to a telephone bidder for £2.2 million against an estimate of £400,000 to £600,000.
"It was museum quality, incredibly rare and had an unusual subject that appealed to collectors of modern art," said Adam Williams, a dealer based in New York.
The most highly valued work in Sotheby's sale was J.M.W. Turner's "Ehrenbreitstein," a view of a hilltop fortress in Germany inspired by a passage in Byron's "Childe Harold's Pilgrimage." The four-foot wide canvas had been in the same English family collection since 1965. It carried a low estimate of £17 million guaranteed by a third-party irrevocable bid.
But Germany is not a favorite Turner landscape subject, and it wasn't one of his more memorable compositions. It sold to a single bid from the guarantor of £18.5 million with fees, including a discount of $1 million for bidding at the auction.
Helped by the Turner, Sotheby's achieved a total of £52.5 million, with 85 percent of lots finding buyers. This was a considerable improvement on the anemic £16.5 million (about $21 million at current exchange rates) the company posted last July. Christie's sale the following evening raised £43.8 million from 48 lots, 75 percent of which were successful.
But away from the orchestrated urgency of the auctions, sales of older art remain patchy.
Masterpiece's elegant setting, a Christopher Wren-style tent overlooking the Thames, does attract a wealthy crowd that isn't usually seen at other art fairs. The London dealers Dickinson sold their star exhibit — Gustave Caillebotte's 1886 river scene "Voiliers sur la Seine à Argenteuil," priced at $10 million — to a client they had not met before. But none of the fair's 153 dealers reported selling a pre-1850 artwork for more than $1 million by the end of Wednesday, by which time a record 44,000 visitors had attended.
There was business being done at London Art Week, but only up to a certain level. The St. James's dealer Stephen Ongpin, for example, sold at least seven of the 22 drawings in his special exhibition devoted to the 18th-century Venetian artists Giambattista and Giandomenico Tiepolo, at prices from £15,000 to £60,000.
The market for old art does not need to give up quite yet. But it is under constant pressure to find unseen works from private collections — and to come up with imaginative ways of presenting them.