The Spears 500: Best of Art Advisers
May 25, 2017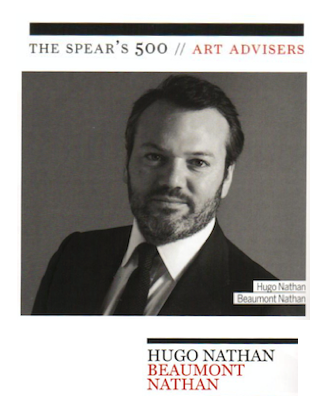 Beaumont Nathan co-founder Hugo Nathan was featured in the 2017 edition of The Spear's 500 essential guide to top private client advisers
The Spear's 500 // Art Advisers
Despite only launching two years ago, Beaumont Nathan is already firmly established as one of London's very top art advisory services.  What's their secret? 'A fresh and modern approach to art advisory,' says co-founder and former art dealer Nathan.
'We set out to be the most professional and most transparent in the market,' maintains Nathan. 'It was daunting at first, but became straightforward as we started looking at how advisory is done beyond the art world.'
Co-founders Nathan and Beaumont pride themselves on bringing the 'rigorous regulation' of other industries to the 'still slightly woolly' art market.  'Our aim was to set new levels of transparency, which is still pretty pioneering,' he says, and with Beaumont Nathan you really known where you stand.  'We only ever represent one side of a deal, either the buyer or seller, our fees are fixed rates, fully transparent and agreed in advance, and we're only paid by our client,' he maintains, 'and we produce written reports for all our buyers, which provide full due diligence on the artwork.'
Their approach seems to be working and has attracted a range of clients, including seasoned collectors who have started to appreciate the need for a third-party adviser in a market where prices are so consistently high.
Their offering has been appealing to the first-time collector, too, says Nathan: 'Our take up has been good among those who have flirted with collecting in the past, but were put off spending large amounts of money by tales of bad experiences and didn't have the confidence to pull the trigger.'