Newsletter December 2014: Artist In Focus
December 18, 2014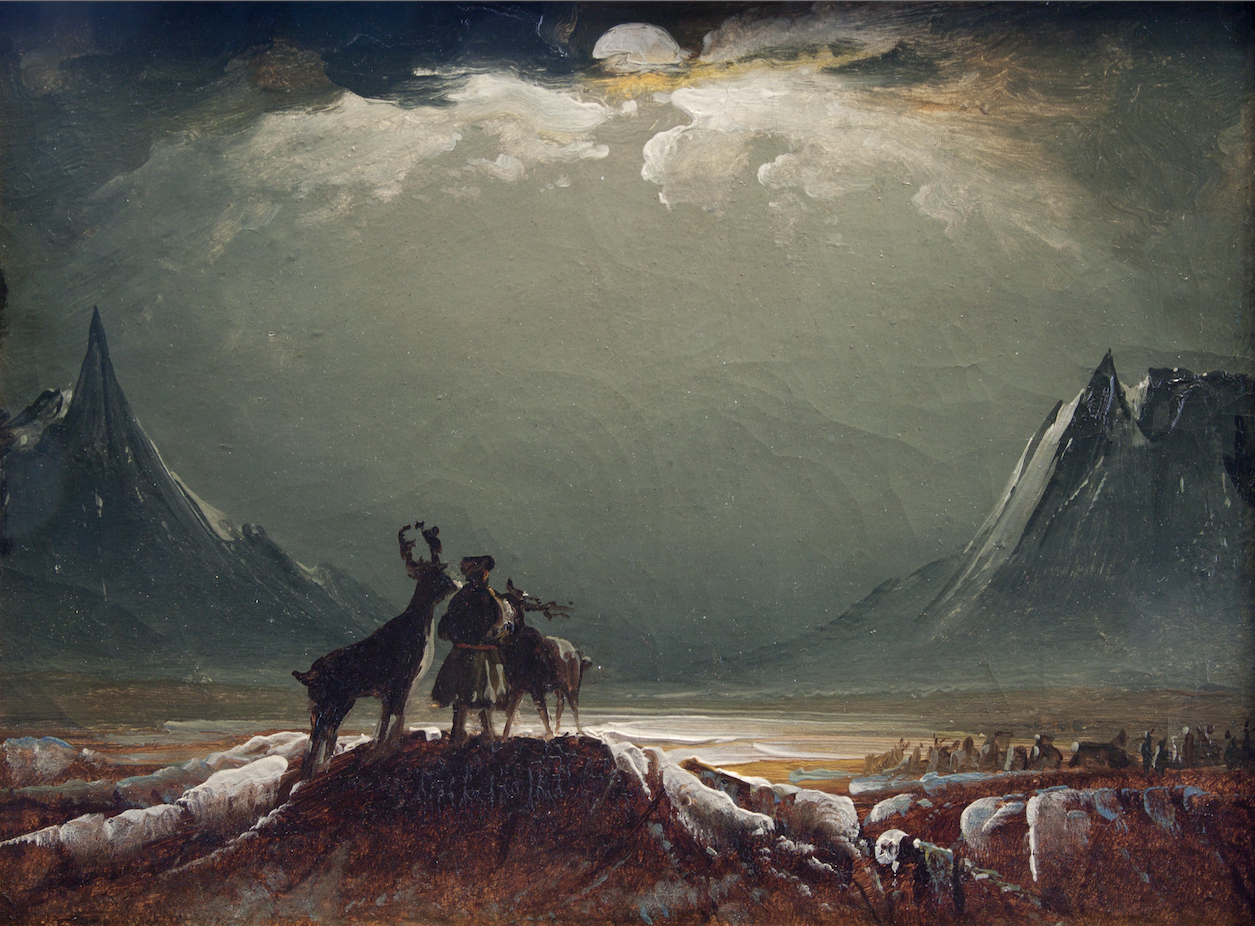 Peder Balke (1804-1887)
Peder Balke was a Norwegian Romantic Landscape painter. As a young man, he travelled extensively across Norway, visiting the remote Northern Cape, a landscape which would inform his art throughout his life. Having studied in Oslo, and then Stockholm, he moved to Dresden, and became familiar with the Romantic landscapes of Caspar David Friedrich. By the early 1840s he was a pupil of Johan Christian Dahl, the greatest Norwegian landscape painter of the time. He travelled to London, and Paris, but after a French Royal commission was abandoned following the ousting of Louis-Philippe in 1848, his career floundered.  Returning to his native Norway, he failed to achieve the commercial success he had hoped for, and devoted his later career to painting the remote wilderness of Norway's Northern Cape.
Balke's obsessive, small scale studies of natural beauty and extreme weather were highly original in their day, progressing from the German romantic style of Dahl, and paving the way for the expressionistic work which Edvard Munch would produce at the end of the century. In recent years, these oil sketches have gathered both a cult status amongst collectors, and immense critical acclaim; his work is now the subject of a major exhibiton at The National Gallery.
The Work
Having studied in Oslo, Balke travelled to Dresden.   His style of the 1840s shows the influence of Caspar David Friedrich and Johan Christian Dahl. Like Dahl, his favoured subjects were the sea and the night, and following the lead of his master, he made several large-scale nocturnal city views at this time. His work of this period is defined by a rich blue palette, but his colourful paintings, with thick impasto, soon gave way to a more experimental style, upon his return to Norway. His palette had become noticeably muted by the early 1860s, during which his application of thin, watery paint, often manipulated with a palette knife, became a distinct style of his own.
By the 1870s his oeuvre was dominated by small-scale land and seascape studies of the Northern Cape. Often painted entirely in dark monochrome, these virtuoso, and highly original, little panels brilliantly convey the dramatic light, fearsome seas, and rugged terrain of the area. Using economical colour, sometimes even applied with his fingers, Balke was able to convey complex storms, moonlight, and even the Northern lights, in a highly romantic and evocative manner.
The Market
Balke's commercial career dwindled during his own lifetime, allowing him to paint with the freedom and experimentation for which he is now celebrated. The resurgence in his market, which had been the preserve of Skandinavian collectors, has been spearheaded by Museum Curators. Recent exhibitions have received great critical acclaim and brought Balke back to prominence, not just with the public, but also with a growing number of important international collectors. His small, late monochromatic oil studies have continued to grow in price since the Louvre exhibition of 2006, with one study of the Northern Lights fetching $205,000 in 2011. Since then, his works, which had been appearing regularly at auction, have become more scarce on the market.
Peder Balke is currently on show at The National Gallery, London until 12th April 2014
If you would like more information on buying and selling work by Peder Balke, please contact us at: art@35.176.144.116