'International Exchanges' at Tate St Ives
May 20, 2014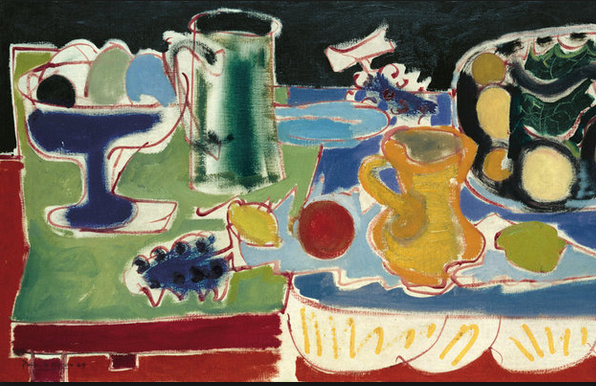 ©Estate of Patrick Heron/DACS
'Long Table with Fruit' (1949), by Patrick Heron
By Jackie Wullschlager
Landscape, light, the lure of the local: that is how the St Ives school of British modernists has always been characterised and, indeed, Tate St Ives – with its airy rotunda gallery facing Porthmeor Beach – was launched to celebrate that distinctively regional achievement.
Cultural tourism, though, now demands global perspectives, and the museum celebrates its 21st birthday with International Exchanges, a beautifully calibrated exhibition, opening on Saturday, which rethinks mid-20th-century British art within European and American positions. A curvy Calder "Spider" dangles above "Countercomposition", a strict De Stijl diagonal grid by Theo van Doesburg; "Overlooking the Bay", Juan Gris' optimistic emerald interior giving on to a cubist-inflected sailing boat, overlooks the Atlantic Ocean itself, in company with de Kooning's melancholy wavy monochrome "Zot" and the tiny beleaguered forms of Giacometti's "Four Figurines on a Base". Tensions between such cosmopolitan innovations and local assumptions give the British works here a fresh, questioning context.
The poster image is Patrick Heron's lovely, translucent still life "The Long Table with Fruit" (1949), depicting jugs, bowls, oranges and lemons and ceramics produced by Bernard Leach's St Ives pottery. The ample forms drenched in colour are obviously indebted to Bonnard and, in hedonistic sensibility, the work is the polar opposite of the show's other major English painting in this genre, Ben Nicholson's frugal "1945 (still life)" – angular cups and carafes set within grey-toned overlapping circles and rectangles.
In these tactics of the tabletops, Nicholson was everything that Heron rejected. "Throughout my early life I had this tremendous battle against the total English contempt for anything they could call decorative," Heron said. "The perfectly ordered surface gives great pleasure. That pleasure used to be run away from by the English."
Tate extends the dialogue with French art through a stunning juxtaposition demonstrating how Heron's interiors and still lifes take their jazzy graphic rhythms and complex spatial ambiguity from the separation of descriptive line and decorative colour in Georges Braque's great late "Billiard Table" series, in which the table seems to tip, crack and fold, in a virtuoso revisit to cubist deconstruction. "From Braque came the idea of the transparency of the objects," Heron admitted. But whereas the French master depicts geometric cues, table and lamp, he himself employed "not a single rigidly straight line or a pure arc or circle", using rather "a loose and speedy linearity", which he described as "perhaps personal and rather English".
Is it old-fashioned to talk of national character in art – or, in our epoch of biennale-led homogeneity, is it essential? Peter Lanyon's vertiginous compositions implying the exhilaration of flight, as in "Thermal", are shown here to adapt the raw energetic surfaces of Jean Dubuffet's art brut. Yet Lanyon was trying to pin down on canvas "the junction of sea and cliff, wind and cliff, the human body and places" – specifically as he experienced it, gliding over St Ives. (He died in a gliding accident in 1964.)
Or take Alan Davie, whose improvisatory abstractions drew inspiration from Jackson Pollock and also from eastern philosophy – linking him to potter Bernard Leach, who called himself a "courier" from Asia to Cornwall – but, in fact, belong as much to the romantic ruralism that is so potent a strain in English 20th-century art.
In St Ives as nowhere else this element dovetailed with the high formalist idiom of international utopian modernism. Nicholson, its chief exponent, first visited St Ives in 1928, meeting retired fisherman Alfred Wallis, whose naive landscapes painted on cardboard ("Houses at St Ives", "Schooner Under the Moon") announced a sort of primitivist Cornish Douanier Rousseau.
A decade later, Nicholson, Barbara Hepworth and their triplets settled in St Ives, bringing with them their friend Naum Gabo, Russian constructivist and Bauhaus teacher, then in flight from Nazi Germany, and the most important European influence on the colony.
A line emerges lucidly, from Constantin Brancusi's radical, simplified sculptures – the cement "Prometheus", the stark wooden "Head" – made between 1912 and 1919, through Gabo's "Kinetic Construction", a strip of metal oscillating to suggest a standing wave, created in revolutionary Moscow in 1919-20, and constructivist compositions by Moholy-Nagy ("KVII", 1922) and El Lissitzky ("Proun III", 1923), to Nicholson's abstract reliefs. In 1930s Britain, "1935 (white relief)", consisting of one circle drawn by hand, the other with a compass, set off against an interplay of rectangles, was regarded as an extreme statement; carved from an old table-top found in a junk shop, the relief was painted surgical white, emblematic of a brave new world.
Gabo's optimistic Perspex and cellulose acetate "Spiral Theme" (made in 1941 – Gabo was the first artist to use the new plastic), which has transparent planes building on and revealing sections below, suggesting emergence and growth, was a triumph in wartime London. During the war, Gabo continued to seek an ideal, abstracted art, keeping at a distance the turmoil of revolution and violence he had survived. His elegant shapes in transparent materials, with holes strung with tight webs of wire, influenced Hepworth – the painted wood and taut string "Sculpture with Colour (Oval Form), Pale Blue and Red" and "Curved Form (Delphi)", for example – though she insisted on landscape and body connotations. "I became the object. I was the figure in the landscape and every sculpture contained . . . the ever-changing forms and contours . . . The strings were the tension I felt between myself and the sea, the wind or the hills," Hepworth wrote.
A balance between abstraction and landscape defines the aesthetic of the painters who congregated in St Ives after 1940: Roger Hilton, William Scott, Wilhelmina Barns-Graham, Terry Frost, Bryan Wynter. Heron, the most gifted, called this group "the middle generation", caught between a prewar modernism whose idealism had been destroyed by totalitarianism and holocaust, and the postwar dominance of American abstract expressionism.
Testing the expressive potential of paint and gesture while retaining reference to the external world – as in Heron's "Garden Leaves" – these artists rarely fail to delight. But nor do their canvases achieve that unassailable sense of their own reality as painting, in the way that makes the luminous, weighty abstractions by their European and American counterparts displayed here, including Rothko and Nicholas de Staël, indisputably greater works. Why?
Writing in 1960, David Sylvester proposed that "the tragic flaw of English painting is compromise, unwillingness to be committed to a point of view, a desire to have the best of two or more worlds . . . [which] prevents that carrying of one idea to an extreme conclusion which is achieved by every great artist." This exhibition fascinatingly explores the strengths – and limitations – of that British position.
'International Exchanges: Modern Art and St Ives 1915-1965', Tate St Ives, to September 28, tate.org.uk ; then Mima, Middlesbrough, October 24-January 25, visitmima.com
Original article: The Financial Times